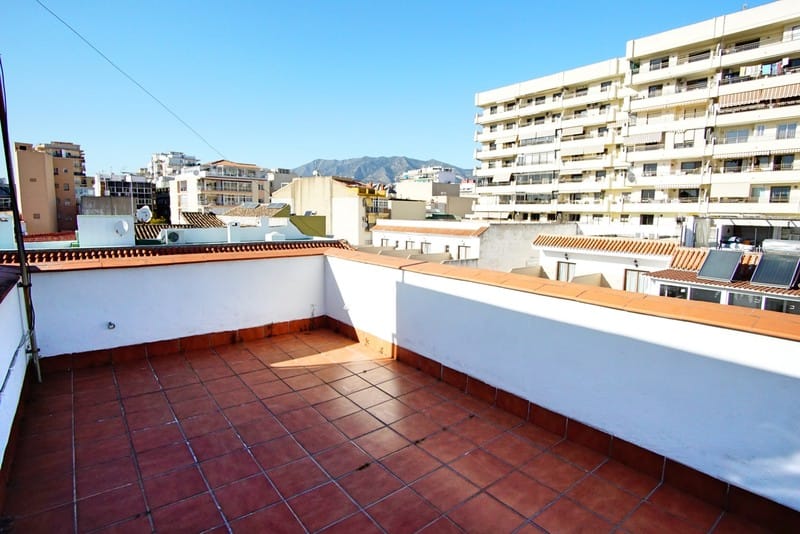 Middle Floor Apartment for sale in Torremolinos
225000
If you're looking for a Middle Floor Apartment for sale in Torremolinos, you've found it: Two bedroom apartment just a few hundred meters from the beach
In the pleasant neighbourhood el Bajondillo just a few hundred meters from the beach and right next to the historic residential palace "Casa de los Navajas" stands this small residential complex with 32 apartments. One of these apartments is now for sale!
Through the quiet street we arrive at a beautiful large entrance door with a matching intercom system. We enter a spacious hall with lots of white marble tiles. At the back of the hall are two elevators available but we decide to take the stairs. We arrive at a nice hall with lots of windows, the hall giving access to two apartments. We open the door to the apartment and we immediately notice how bright the apartment is. From the hall we have direct access to the living room, kitchen, bedrooms and bathroom. The hall is equipped with fitted wardrobes that make sure there is enough storage space. We decide to walk to the bedrooms first. Two bedrooms of respectively 10 and 12 m2, both with a window to the balcony with shutters that can let out the summer sun. One of the bedrooms has spacious built-in wardrobes. At the end of the hall we find the bathroom with bath, toilet, washbasin and bidet.
We walk back to the hall and immediately take a look in the kitchen. The cleverly arranged compact kitchen contains everything you could wish for. Fridge/freezer combination, electric hob, complete oven and there is still room for a washing machine. Because it is an open kitchen, the kitchen is connected to the living room which gives it a more spacious look. From the kitchen we have a direct view of the living room, the sun is already shining through the windows so we quickly decide to walk to the living room. This spacious living room is spacious enough to place a dining table next to two sofas. The air conditioning ensures that even in the hot summer it remains pleasant in the apartment. From this living room we also have access to the fine balcony with a breathtaking sea view. Do you see yourself sitting here in the morning with a cup of coffee, sunshine and beautiful sea views?
Together with the apartment a covered parking space is offered which is closed with an automatic gate which is only accessible to residents. For more information, contact us and we will respond