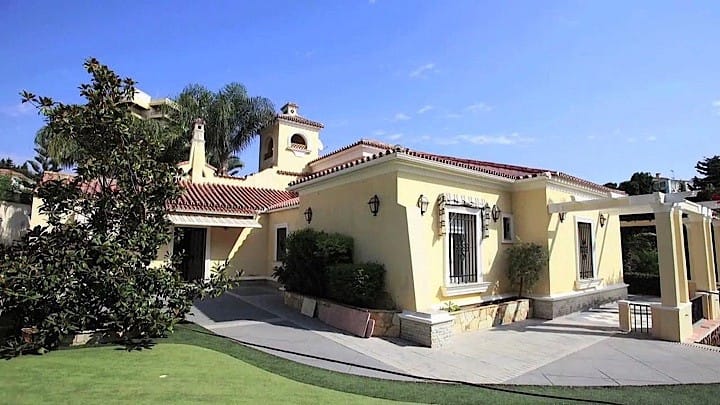 Detached Villa for sale in Torremolinos
1650000
If you're looking for a Detached Villa for sale in Torremolinos, you've found it: Beautiful 8 bedroom villa resembling a small palace located in Torremolinos (Malaga) 200 meters from La Carihuela beach.
On a plot of 2,400 m2. All this occupies an area approx 800-1000 m2
Composition:
EXTERNAL ZONE
Wooden hut, for own utensils of garden maintenance. Cascade of water and creek with water in closed circuit.
Cistern for drinking water, used for consumption of the residence, gardens and fountains. Supplied from an underground spring water.
Pump for houses and garden
Gym with machine room (hot water, pool purifier), local for Turkish bath.
Swimming pool of 5 by 10 m, with salt water, automatic natural chlorine production. Automatic cleaning robot.
Warehouse location
Workshop location for maintenance
Hidden drying rack
Outdoor kitchen area composed of: Barbecue, adjustable, Iron with 2 burners, Wood oven, Fridge.
Cleanliness
Mini golf (aproach and put) with 7 holes. Supply of another source.
MAIN HOUSE
GROUND FLOOR COMPOSED BY:
Entry Porch with stained-glass window Entrance Hall
Living room
Living room
Kitchen
Pantry
Swimming pool (1)
Living room (1)
Bath (2)
Living room (2)
Bathroom (3)
Living room (3)
On this floor you will find
The summer dining room and a guest toilet.
HIGH PLANT COMPOSED BY:
Living room and work station. Bath (4)
Living room (4)
Outside terrace
Bath (5)
Living room (5)
GROUND FLOOR COMPOSED BY: Warehouse.
Soundproofed cinema.
Sound-proofed music venue
CASA DE GUARDESE:
COMPOSED BY: Dining room Kitchen Bedroom (1) Bathroom (1) Bedroom (2)
Swimming pool (2)
GARAGE for 4 vehicles Storage room (1)
Parking space (2) For more information, contact us and we will respond